CARe Publications
Book Publication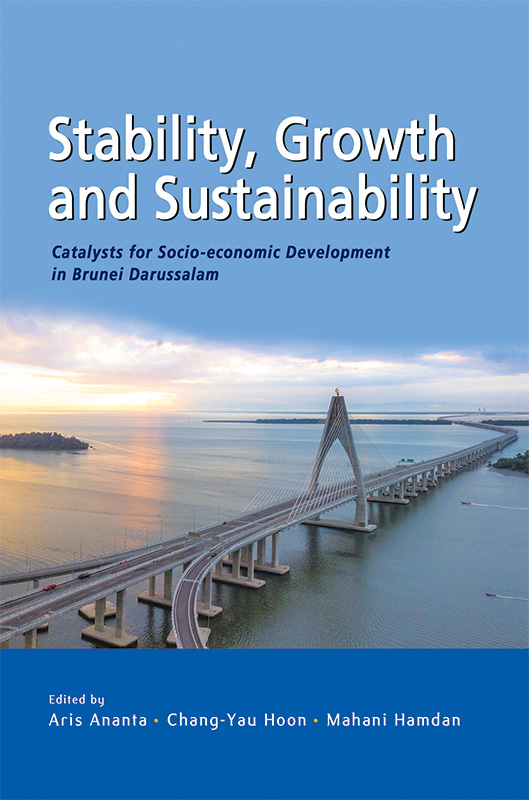 Stability, Growth and Sustainability: Catalysts for Socio-economic Development in Brunei Darussalam
As in many other oil and gas dependent countries, Brunei Darussalam—a country with a small population but the second highest income per capita in Southeast Asia—has been diversifying its economy in three sectors: from oil and gas to other sectors of export/economic growth; from the dominance of public sector employment to a more balanced public and private sectors employment; and from heavy dependence on foreign labours to development of local talents. This book examines the current socio-economic development in the journey toward a diversified social economy, as targeted in Brunei Vision 2035. By examining the unique context of Brunei, this book fills in the gap on studies focusing on socio-economic diversification. It highlights the importance of the environment, digital technology and human capital in the diversification process. The book culminates with analyses on business, economy, employment and welfare in Brunei toward 2035, with a new face: a digitalized, sustainable and self-reliant society with a highly developed human capital and a flourishing private sector.
Journal Papers
2023
Aris Ananta, Evi Nurvidya Arifin, Ari Purbowati, and Paul Carnegie. 2023. "Does Diversity Matter for Development? New Evidence of Ethnic Diversity's Mediation between Internal Migration and Economic Growth across Indonesia's Regions". Journal of Population Research, Vol 40(3).
Evi Nurvidya Arifin and Aris Ananta. 2023. "Employment of highly-skilled migrants during the pandemic: Focus on internal migration in Indonesia". Asia Pacific Migration Journal (Q2), Vol 32(1): 60-82.
Evi Nurvidya Arifin, Aris Ananta, Siti Fatimahwati Pehin Dato Musa, and Chang-Yau Hoon (2023) "A Pioneering Study on Measuring Poverty in the Hydrocarbon-rich State of Brunei Darussalam". Journal of Asian Population Studies.
Hong, R. Q., Abdul Rahman, H., Ali, M., Hoon, C.-Y., Slesman, L., Tengah, A., & Abdul-Mumin, K. H. (2023). Health Determinants of Life Satisfaction Among Older Adults in Brunei: A Multivariate Analysis. Ageing International, 1-14.
Evi Nurvidya Arifin. 2023. "Free Time in Old Age: Does Health Status Determine the Choice of Leisure Activities among Older Persons in Indonesia?" Journal of Socio-Cultural Gerontology.
Slesman, L. (2023). Oil Dependency and Happiness in Net Oil-Exporting Countries: Is it a Curse or Blessing? Middle East Development Journal, Forthcoming.
Slesman, L., Kole, A., Abdlaziz, R. A., & Raheem, I. D. (2023). Taming the Tides of Internal Conflicts in Sub-Saharan Africa: The Role of Political Institutions and Natural Resources. Global Journal of Emerging Market Economies, 09749101231187468.
Book Chapters